OUR MISSION
Our mission is to provide jobs and job training within the apparel and home industries. Currently, Babe Ravi employs 50-100 women in Nakuru, Kenya - an area with unemployment rates as high as 40%. Many of the women have been widowed by the aids epidemic, thus becoming the sole source of income for their families. By giving them access to revenue, not only are the lives of their children significantly improved, but the entire community is propelled forward. Our company pays above average wage to its workers and provides them with free meals.
Quality Fabrics, Design, & Craftsmanship
All Blazers are made from quality, durable, Poly blend that are easy to care for and wash. They are hand-stitched in Kenya under the direction of designer Siamanda Chege. The blazer is a classic two button single breasted blazer, gold tone buttons with gold tiger engrossed buttons. The outside pocket is a double welt pocket with flaps. Each blazer is fully lined. Regular sizes available but Custom sizes option for an extra fee. There is back vent for breathability and ease of move. A girls-only style with a slightly shaped silhouette.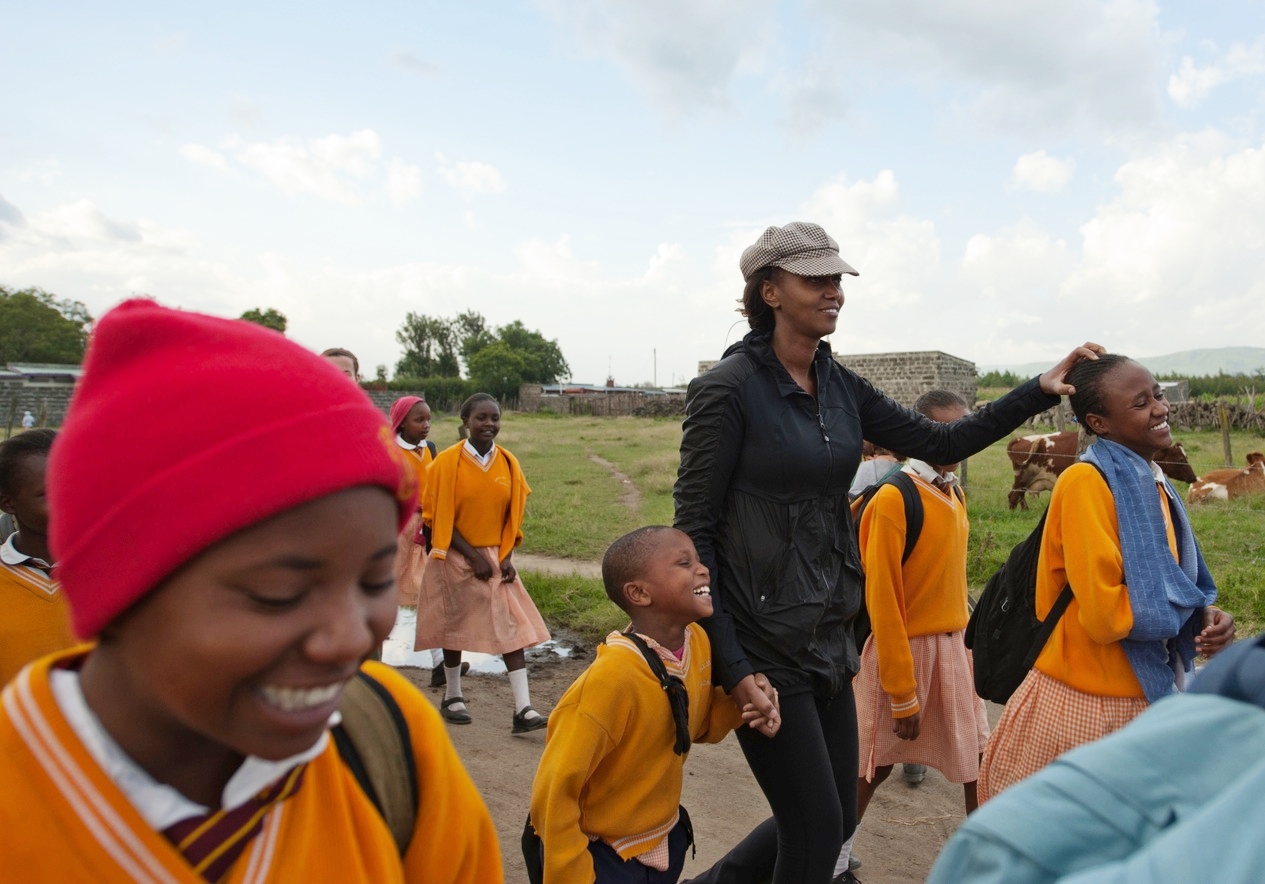 The Chege Orphanage is a haven for such children, who would otherwise live alone on the streets, scavenging for food and temporary shelter. We give them a safe and nurturing home, with loving caregivers, healthy food, clothing and medical care. We also provide each child with an education. Profits from the Blazers go to helping the Chege Village and the children that call it home.
You can order your blazer by printing out the order form (link below) or clicking the "Direct Online Order Link" button. Additional information provided below.
**IF A CUSTOM SIZE IS NEEDED PLEASE USE THE FORM BELOW TO SUBMIT YOUR CUSTOM SIZE REQUEST.**
HOW TO CARE FOR YOUR BLAZER
How to wash your school blazer:
Ensure that all the blazer pockets are empty. You don't want a rogue tissue ruining the fabric or

a pen lid blocking up your washing machine!

Prepare for your wash by always reading the label of your school blazer first.

We recommend washing our blazers at 40 degrees and avoiding strong fabric conditioners to help reduce the stress on the fabric, keep the color looking fresh and prolong the garment's life span. Our school blazers can also be professionally dry cleaned, if preferred.

For best results, do not tumble dry. Simply hang up to dry.

In general, if you have hung out your school blazer to dry it shouldn't need ironing and will maintain its lasting shape. However, if you want to achieve an even smarter finish, place a damp cloth between the blazer and the iron. Never iron directly onto the fabric.
HAVE A QUESTION?
SIMPLY FILL OUT THE FORM BELOW TO SUBMIT YOUR INQUIRY.
IF REQUESTING A CUSTOM SIZE, PLEASE USE THE SUBJECT LINE
"CUSTOM SIZE REQUEST (CHILD'S NAME)"
"In a real sense all life is inter-related. All men are caught in an inescapable network of mutuality, tied in a single garment of destiny. Whatever affects one directly, affects all indirectly. I can never be what I ought to be until you are what you ought to be, and you can never be what you ought to be until I am what I ought to be... This is the inter-related structure of reality.
~ Martin Luther King